VISION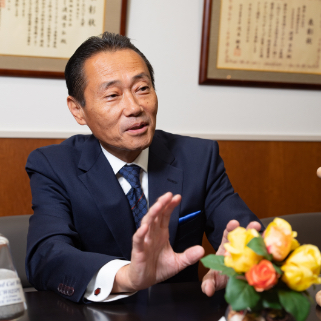 Dr. Eng. Yoshihiro Watanabe
President & C.E.O
In 1975, TOYO SEIKO CO., LTD was established to manufacture and sell steel cut wire shot for de-scaling machine of Miyazaki Seiko Co., Ltd. Furthermore, we expanded our business to "Peening", which is surface treatment for parts enhancement, for not only to automotive industry but also to aviation industry and nuclear power field keeping our business stability and expansion. During all that time, we developed not only peening shot media, but also ultrasonic peening equipment and other peening related inspection equipment. Moreover, we tried promoting services such as peening services for aircraft parts (Nadcap certified) and on-site peening process for bridges and shipbuilding.
TOYO SEIKO (THAILAND) CO., LTD was established as subsidiary manufacturing company in 2011 for expansion of global supply capacity for overseas customer and to hedge with exchange rate risk for keeping enhancement of price-competitiveness. TOYO SEIKO NORTH AMERICA Inc. was established as a sales company in 2014 for expansion to automotive & aerospace industries in North America. All these efforts made our global market share bigger, and led us to be selected by Japan Ministry of Economy, Trade and Industry as one of the "Global Niche Top Companies Selection 100" in 2014 and also selected by The Small and Medium Enterprise Agency as Corporate Excellence Prize of "Good Company Award" in 2015.
Regarding the contract shot peening service we started for aerospace parts since 2006, TOYO SEIKO will challenge for expanding the service by attending Aircraft Parts Manufacturing Cooperative (APM) at MHI's Matsusaka Plant from the second half of 2016 with slogan "Fly to the next stage".
The mission of TOYO SEIKO is to popularize shot peening process to wide industrial field. To achieve this mission, shot peening process is required to keep improving to be more reliable surface treatment technology. "Make Anti-peening people Peening Fans" is our slogan, and our goal is to be the world NO.1 "Shot Peening Company" by improving competitiveness (Quality, Price, Lead time, Techniques and Services) of all peening related items (Shot media, Process, Equipment) . We will aim for this goal with all our staff by continuing "Sincerity and cordiality", "Challenge" and "Curiosity" which are characteristics of TOYO SEIKO since the day of establishment. Your continued support and patronage is greatly appreciated.