DETAILS
Compressive Residual Stress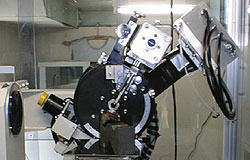 Product Summary

Residual stress is important factor for fatigue strength of material, stress corrosion cracking and also Fretting fatigue.
Toyo Seiko is available not only for the measurement of the residual stress but also submitting the best solution for the fatigue strength as a professional company of Shot Peening.
In General, residual stress evaluation could work well for the solution against the deformation, crack which comes from heat treatment.
Further the harmful tensile residual stress by heat treatment and machining could also be measured by X-ray diffractometer.
Toyo Seiko would measure residual stress and retained austenite by X-ray diffractometer with the plenty of acknowledgement.
---
Machine Type
Rigaku X-ray stress analyzer (PSPC, Auto MATE)
| | |
| --- | --- |
| | |
| Fig 1 PSPC | Fig 2 AutoMATE |
---
Measurment service
XRD (X-ray diffraction)
– Compressive residual stress inspection (2θ-sin2ψ method)
– Retained austenite inspection
Other inspection
– Hardness inspection
– Surface roughness inspection
Tube list and Measuring object material
– We have wide variety of tubes. Please see Table 1.
Table 1
| | |
| --- | --- |
| Tube | Measuring object material |
| Cr | steel, copper, brass, tin, nickel, carbide, chromium nitride, Ti-Ni shape memory alloy, aluminum oxide |
| Cu | zirconium oxide, α titanium |
| V | Magnesium, β titanium |
*We also have Cobalt (Co) tube.
Collimator (radiated area) size
We have collimator listed in table 2.
Table2
4mm
2mm
1mm
0.5mm
0.3mm
0.15mm
---
Characteristics
Application
In the case of using shot with a hardness of HV800 or more, the maximum compressive residual
stress value turns out to be approx 2 times larger compared with Shot of HV520 hardness.