DETAILS
Portable Pneumatic needle-Peening (PPP)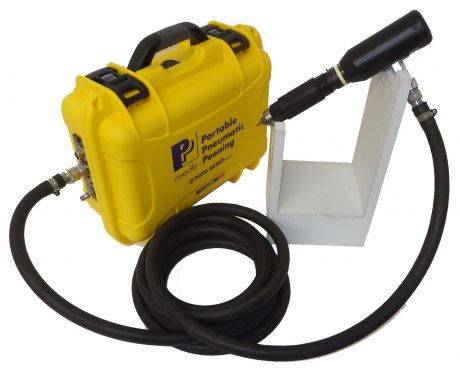 Application
Equipment to reinforce treated surface bycontinuously-peening the welded toe.
---
Improves the fatigue life of welded toe
Feature
・Improves the fatigue life of welded toe (See: Advantage-1)
・Quick treetment
・Space-saving & easy to carry
・AC power / AA size storage battery or commercial dry battery
Advantages
・Reduction of stress concentration factor by deforming the welded toe geometry , and also improves fatigue life of welded part by compressive residual stress.
・Closes small cracks at welded toe. (See: Advantage-2)
・Decrease of stress corrosion cracking.
Functionality
・Battery enables outdoor working or working at any place that has no electronic power supply.
・Ergonomic design in consideration of safety and easy access to target area.
・Control box controls peening power for stable working.
・Quick-change peening head needle (consumable parts).
・5m air hose from control box to peening head.
Applicable target
・Bridge, shipbuilding, plant, rail vehicle and so on. (For welde d structures)
---
PPP Specification
Peening head

●Size : (Max Length)297mm, (Max dia.) 55mm

●Weight : 2.0kg

●Power source: Compressive air (Factory air)

●Needle (Pin) : φ3mm

●Needle (Pin) tip radius : R1.5

Peening head transfers impact energy of piston to needle on the tip,
and makes the needle continuously-peen the object surface.
Control box
 Box inside

●Size : W420 H345 D175(mm)

● Weight : 7.5kg

●Power source : ACPower / AA size storage battery or commecial dry battery

●Run length

eneloop pro® AA size (Attached) :  Max 8 hours
Alkaline dry battery AA size (commecial) : Max 4 hours

●Accessories :

eneloop pro® BK-3HCD (Panasonic)
Fast charger for eneloop, others

●Control function : Air pressure, Air flow rate

Control box coordinates and monitors compressive air provided to peening head.
It will prevent peening head from working with over controlled flow rate by setting
compressive air control range.
---
Appearance after PPP treatment

---
PPP Advantage
Advantage-1 (Fatigue test result)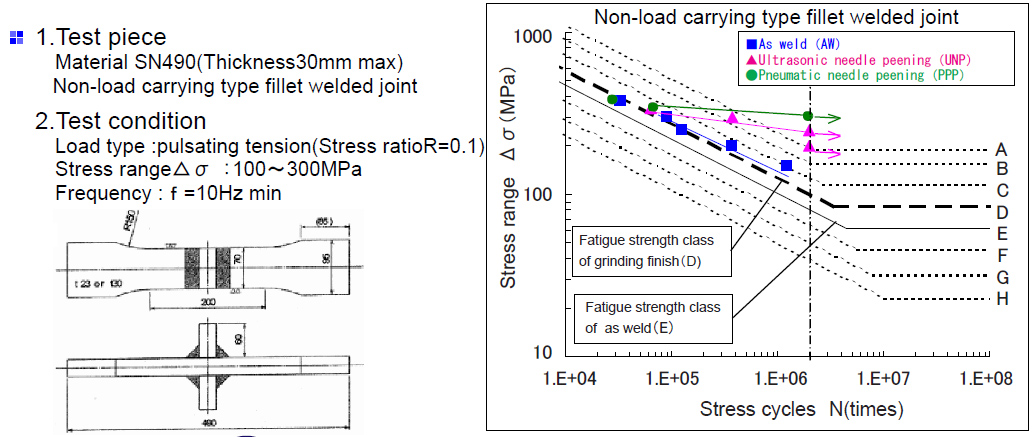 Advantage-2 (Small fatigue crack closure by PPP treatment)